A moonlight path.
A place of gentle nature and friendly people.

Moonlight Flower Gallery (Tsukiakari Hanakairo) is an illumination event planned and hosted by local community members. It welcomes visitors with an opportunity to see and feel nature and enjoy friendly conversations.
Against the backdrop of warm, dreamlike illuminations as well as plants and flowers arranged carefully to preserve the surrounding nature and landscape, your interactions with regional nature and people around you will give you a 'time to relax'.
The whole community has been working on this Moonlight Flower Gallery hoping to make it into a memorable moment of your trip to Kinugawa Onsen.
On this website, please enjoy the scenes from past chapters, and the dreamlike walks of autumn nights.
The latest chapter: overview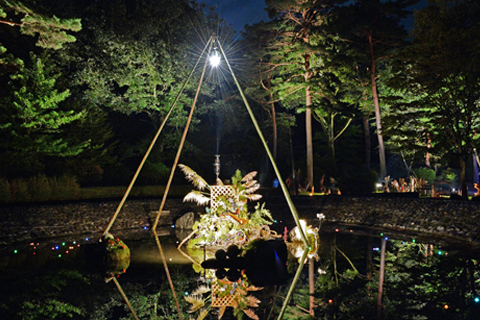 This event has ended.
We're Looking forward to seeing you at "Moonlight Flower Gallery" in 2020.
Event period: 10 days, from Saturday, September 28 to Monday, October 7, 2019
Weekdays: 6:00 to 9:00 pm
Weekends: 6:00 to 9:30 pm
*The event schedule may change or the event may be cancelled depending on the weather.
Venue: Kinugawa Park and surrounding areas
Host: Moonlight Flower Gallery Committee
-Illuminations and flowers-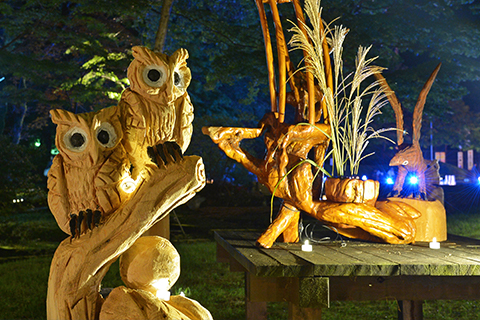 The event features illuminations using the nature of Kinugawa Park and artwork such as sculptures and arranged flowers. Community members produce these pieces with a sincere wish to entertain the visitors. You will find each work very heartwarming.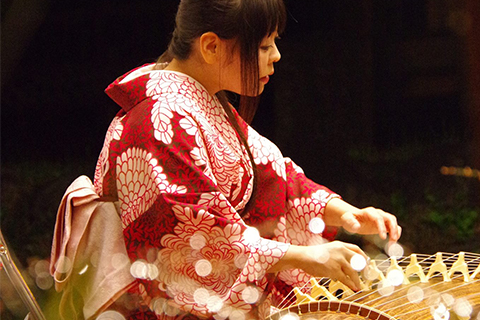 To make the event more enjoyable for you, there will be a Moonlight Concert, an open-air musical performance using traditional Japanese instruments, a Moonlight Tea Ceremony, an open-air tea ceremony, and concession stands.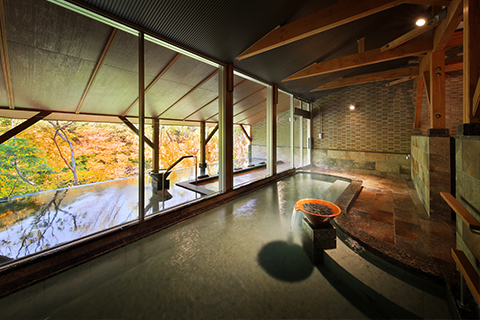 The whole area of Kinugawa Onsen will welcome you with warm hospitality. There will be Onsen Walk Tour, a drop-in onsen discount service at hotels and onsen facilities, and Happy Gourmet, a discount service at restaurants.
Address:
19 Fujihara, Nikkoshi, Tochigi JAPAN
From Kinugawa koen station:
5 minutes walk
From Kinugawa Onsen station:
take a shuttle bus, 10 mitutes
From Hotels in Kinugawa Onsen's main area:
take a shuttle bus, 5-25 mitutes
*The ticket for the shuttle bus is 100 yen per person.
Please purchase at a reception desk of each hotle.
(You can also pay for the ticket when you get on the bus.)